Tenue Airsoft : Urban Predator
Suivez vos adversaires et sortez de l'ombre pour frapper avec la tenue Urban Predator ! Ce set MultiCam™ Black est très apprécié pour les joueurs qui jouent sur les terrains CQB ou en partie de nuit.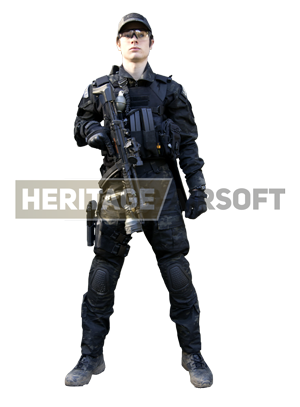 Voir la suite.
Find below the kit-list to create your loadout!
Remonter la page.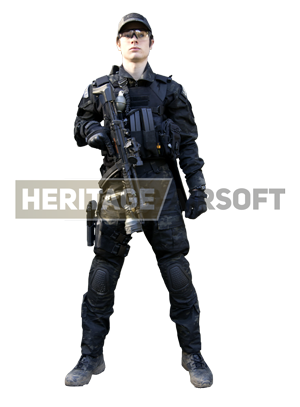 Le pantalon est l'un de nos modèles les plus populaires : le predator G2 d'Invader Gear, ici présenté en BTP Black (la version anglaise du MultiCam™ Black produit par Crye Precision). Ce pantalon est totalement adapté à des situations de combat grâce à ses genouillères intégrées et ses nombreuses poches. Le spandex présent au-dessus du fessier et aux genoux suit naturellement les formes de votre corps pour vous permettre de courir ou d'escalader sans gêne.
Le haut est une chemise de combat UBAC coupe G2 d'Invader Gear, également en camouflage BTP Black. La partie torsale de l'UBAC est fabriqué en coton qui reste près du corps, de même que pour le pantalon, cette chemise épouse les formes de votre corps pour vous permettre une meilleure mobilité par rapport à une veste ACU ou BDU classique.
Pour votre couvre-chef, nous vous proposons un casque type FAST de la marque Emerson de coloris noir, léger et modulable, ou alors une casquette BTP black de la marque Kombat UK en fonction de vos préférences et de votre budget.
Pour vos indispensables lunettes de protection, privilégier les lunettes ESS Crossbow avec verres clairs pour pouvoir bien voir de nuit ou dans un bâtiments sombre, vous pouvez aussi prendre les MSA Racers, qui procure la même protection, mais qui sont plus abordables.
Une paire de Lowa Zephyr GTX de couleur noir seront parfaites pour protéger votre pied et vous apporter un grand confort lors de vos longues parties d'airsoft. Pour une option moins onéreuse, vous pouvez choisir les chaussures basses tactiques noires de chez Mil-Tec.
Pour votre équipement tactique, un porte-plaque JPC noir de la marque Viper vous fournira une plate-forme très personnalisable grâce à ses passants MOLLE, et qui sera aussi très légère. Vous pouvez composer vous-même votre sélection de poches MOLLE en fonction de votre réplique ou de vos besoins. Notre sélection de poches se compose de porte chargeurs élastiques M4 de la marque 101 INC (Reproduction de Blue Force Gear) de couleur noir, d'une poche EVAC noir Mil-tec et d'un porte chargeur PA double noir Mil-tec également.
Le holster est une plateforme de cuisse noire style BlackHawk ! ™ avec attache SERPA, fourni avec un porte chargeur et un porte lampe, disponible pour P226, M9, 1911 ou Glock.
Cette tenue est à la fois classe et fonctionnelle, et ravira les joueurs civil/contractor sur les parties avec dresscode.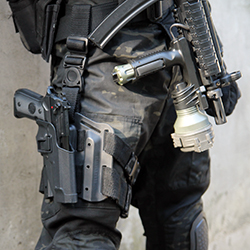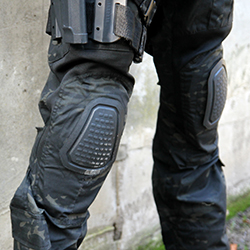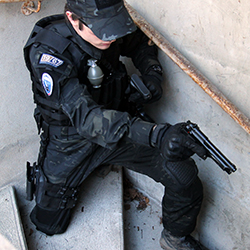 Cette tenue est idéalement conçue pour le combat en milieu urbain, le choix de camouflage est donc libre sur une palette de motifs sombres tel le A-TACS™ LE en coupe ACU de chez Propper, le Kryptek™ Typhon en coupe Crye G3 d'Emerson. On peut aussi prendre le classique Digital Urbain, fabriqué par Propper également. Et bien sûr, du noir uni simple.
Pour votre réplique, un MP5 est tout naturellement désigné pour les scénarios en milieu urbain. Vous pouvez choisir le modèle classique A3 ou SD6 de chez SRC ou le modèle avec garde main avec lampe intégré (Copie Surefire) de Classic Army. Nous disposons d'accessoires tel des viseurs ou des lampes pour équiper votre réplique pour le CQB. Ou sinon faites comme Ari et équiper votre réplique d'une lampe antibrouillard de bateau pour éclairer même les caves les plus sombres !
Cette tenue est à la fois classe et fonctionelle, et ravira les joueurs civil/contractor sur les parties avec dresscode.