AIRSOFT OUTFIT : JURASSIC WORLD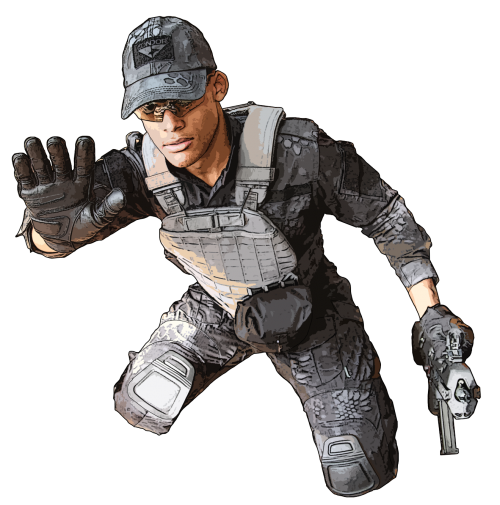 Do you feel the putrid smell that fills your nostrils? It surely will be your last memory, while you were visiting the famous park "Jurassic World". Unless you're on the side of Chris Pratt and Omar Sy, action men without which all hope is lost!
The outfit of the guards of Jurassic Park / Jurassic World is exclusive by Heritage-Airsoft. Although we don't have Raptors in our land to add a little "spice" to our scenarios, nothing prevents you to use this outfit, very effective in forest and night environments.  
When it's about the base of the outfit, we offer several choices: A jacket Kryptech Typhoon ACU cut, with Velcro on the chest and torso to put your names and ranks them; or UBAC tactical shirt (Under Body Armour Combat). Two references are available, to suit all budgets. The pants will also three choices: pants ACU cut Kryptech Typhoon (to suit with the jacket ACU cut), and two tactical pants, Crye or Gen 3 cut, with Kryptech patterns from Emerson.  
The plate carrier TacTec from 5.11, equipped with its dummy plates SAPI, is an excellent base to place all your equipment and accessories (mounting MOLLE and Lazer Cut), such as MOLLE big radio pocket black from MFH, or the MOLLE middle format pocket from Mil-Tec, to use to store your magazines, BB's, etc. A must for this Hollywood outfit!
A baseball cap with front velcro, typically American genre, is perfect to protect your head from the sun, without forgetting to stay swag!
ZEPHYR GTX black shoes of the Lowa brand will be ideal shoes for all-terrain, this may save you many injuries and blisters. Tactical Boots Generation II (Mil-Tec) or Patriot boots with zip (McAllister), both black, are for lower budgets without neglecting the quality aspect of these products.  
The PMR 446 at Midland G7 XT connected to the headset tube BodyGuard MAXON will be essential to keep in touch with your boss, or your teammates.
The G14 replica from GSG (in BlowBack) is perfect for this futuristic park, although prehistoric! When a raptor will have your head so you'll be OUT, orange hit marker from Battle Cleared Replica will be displayed at the end of your airsoft gun's barrel, to join the respawn without taking stray BB's.

Posted on: Airsoft Outfit