Airsoft loadout: WW2 German Paratrooper German paratrooper WWII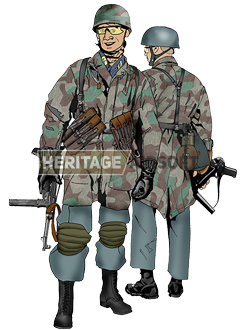 The German paratrooper outfit, also called « Green Devils », or Fallschirmjäger in original version.

Thanks NEO035 for his presentation : 
>
See more description (Go down).
Find below the kit-list to create your loadout !
Go top
June 6, 1944 was the beginning of the battle of Normandy, and the liberation of France. But from the beginning of the fights, American clashed with a size enemy: the German paratroopers, elite troops from the Luftwaffe, was defending Carentan. This battle was hyped by Steven Spielberg in "Band of Brothers". Green Devils have proven their worth and earned the nickname "The Lions from Carentan" by the general Von Choltitz him-self.
Green Devils was equipped with a jump jacket (camouflage Splinter) and with a special trousers for German paratroopers. We add a black leather belt with its belt buckle (which is here a reproduction of the buckle worn under Weimar Republic).
Gloves and Y-slings will complete the uniform. We can note the M38 helmet, so typical of the German paratroopers during WW2, is offered to you, also for a competitive price. Helmet you can embellish with the corresponding helmet cover.
The airsoft guns P38, Lüger P08 or MP40 can complete your FJ outfit, and we offer you an exclusive product: the jump boots, very cheap and a great look, manufactured by Battle Cleared Replicas.
All of our accessories are "denazified" to allow you using them in Softair without restriction.
Feel free to contact our sellers to get more information about this uniform of the elite troops of the Luftwaffe.