Multicam Warrior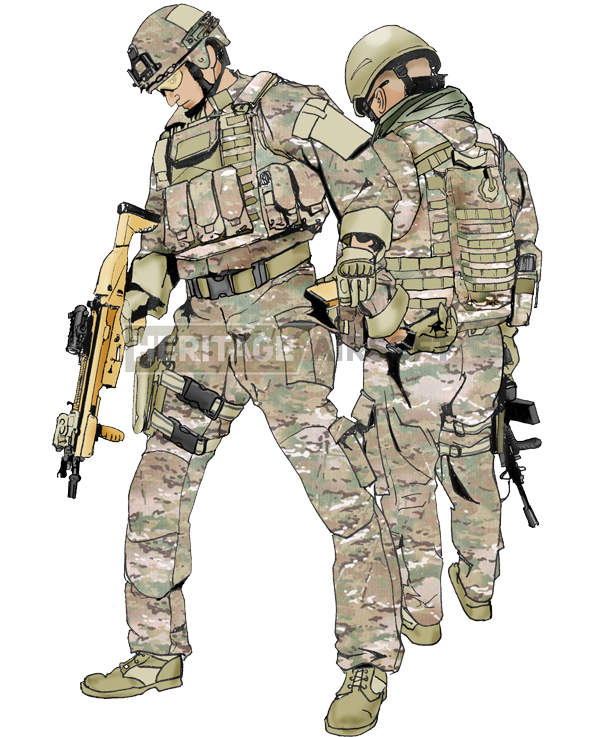 A Multicam outfit will permit to be deployed on many contemporary operation theaters, this camouflage being universal and adapted to almost any type of terrain.
Find below the kit-list to create your loadout !
Go to top.
A good outfit must be usable in maximum possible environments. It's in this perspective that was developed the MultiCam camouflage, new universal camouflage developed during the late 2000s and officially adopted in 2010 in the US Army.
With the kit-list proposed by Heritage-Airsoft, you can constitute a full MultiCam uniform (contrary to the picture's suggestions!).
Regarding the trellis, choose between the original official product manufactured under license CRYE by Propper, or most economical version proposed by Battle Cleared Replica. Heritage-Airsoft also thinks to your budget by offering more products with excellent quality/price ratio.
Complete the set with commando boots desert from Mac Allister and shelled gloves in tan and black color from Battle Cleared Replica.
A fighting belt in nylon, coyote color, will allow you to carry your equipment, which can be the empty-magazines pocket in coyote color and a US canteen with alu cup, stored in a Multicam cover.
Add a splinter proof jacket MAR Cires type with pockets, also camouflaged in Multi Camo, in order to carry the rest of your equipment and your airsoft magazines, whether they are for long or for pistol airsoft guns. His MOLLE type fasteners allow you to quickly and efficiently customize this tactical vest.
Cover your head with a replica of the helmet IBH with NVG mount and side rail, all with the Multicam camouflage, ideal to fix your lights and your GoPro to film your furious airsoft games.
The long airsoft rifle we propose you is the FN Herstal SCAR-L MK-16. Several brands are available depending on your needs: Classic Army, DBoys or VFC. Several colors are available to vary the pleasures, and to use your talents for paint jobs!
Add a convertible tactical bipod grip on your replica for comfort of use in the field, and add also a 1 point strap with elastic in Coyote color.
Our teams are there to advise you if you have questions or suggestions on our list kit!