Airsoft loadout: Vietcong soldier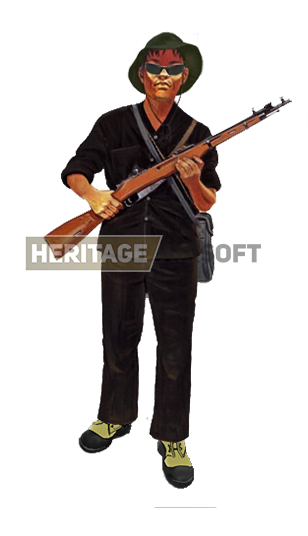 The Vietcong outfit is the uniform will permit you to oppose (and why not to win, like for the real History) to the American Forces. Vietcong soldiers (or Viêt Công, term initialized by their enemies) are fighters for National Front of Freedom for South Viêt Nam, which gathers, between 1955 and 1975, enemies of south-Vietnam government.
Find below the kit-list to create your loadout !
Go to top.
Far from Hollywood's prejudice, all Vietcong didn't wear systematically the famous pointy straw hat. They can also wear the Vietcong helmet, made of cork, as the same type of the tropical hat used in Africa.
A cotton beige shirt and black pants BDU cut will constitute the essential of the outfit, the all embellished with pair of bush shoes Pataugas style, the same as those used by French army in colonies (included Indochina). They are low shoes made of rubber (sole) and web (the rest).
The Vietcong typical accessory was the ChiCom ammo-pouches vest for AK-47. The Vietnamese canteen will be your best friend when the thirst will come.
Concerning airsoft guns, they are soviet. So you use again soviet WW2 softairs, included the TT-33 Tokarev from W2, and use the more modern soviet guns, as the AK-47 (wood stock, or in compact version with folding stock).
A cheap outfit accessible for everyone, and essential to realize a complete scenario "Vietnam war".
Don't hesitate to contact us if you have other equipment choices to add on our catalog.