Airsoft loadout: US Vietnam Soldiers "Grunt"Grunt US Vietnam Soldier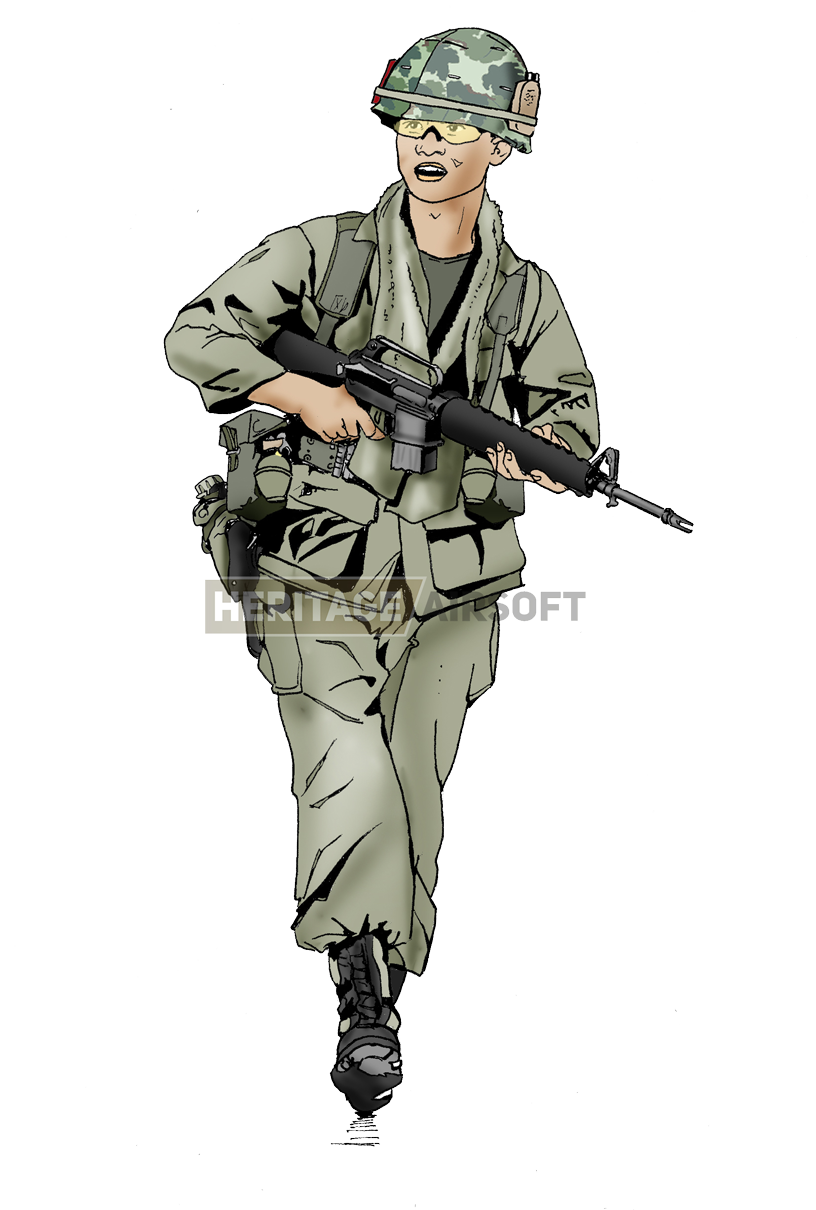 "I love the smell of napalm in the morning". If this sentence means anything to you, Heritage-Airsoft disposes elements which can complete this phrase. Join the US Soldiers "Grunt" in Vietnam thanks to the outfit we propose you.
Find below the kit-list to create your loadout !
Go to top.
Grunt was the nickname attributed to US Marines engaged during the Viet Nam war. The ground battle has taken place over nearly 10 years, so the equipment of US soldiers has evolved, going from M-1956 equipment to modernized M-1967.
Heritage-airsoft presents you here the outfit worn for the beginning of the conflict (from 1965 to 1968). The environment in which US soldier evolve being green, the main color of the outfit is olive green, even if a few pictures of our articles can show a small difference tint, these can be slightly pale.
The base of the trellis is composed with a jacket and pants BDU type (Battle Dress Uniform) green olive color, prewashed. The prewash means they are already slightly weathered, for a better realism.
M56 Belt and equipment manufactured exclusively for Heritage-Airsoft in will complete this set, without forgetting Jungle Boots US of type Panama from brand Rothco.
A complete M1 helmet in steel provided with its reversible helmet cover Mitchell and its helmet elastic will allow you to protect your top of the head from enemies' BB's (WW2 helmet are compatible).
In case of high heat, the tropical hat Boonie Hat green olive of Vietnam style will replace the steel helmet.
About airsoft guns, we can find the M15 A1 (M16) Vietnam DEVGRU from Classic Army, with the Colt 1911 A1 100th anniversary in CO2 from Cybergun as a back-up, to store in the black holster. For shooters preferring the M14, they will also have the choice among our references.
The burliest of you will fall back on the M60 with ammo-box, as we can see in movies like Full Metal Jacket, Platoon, Rambo and its parody Hot Shot 2, or more with Apocalypse Now.
The M7 bayonet in rubber with its M8 scabbard in Bakelite will be used for infighting and the vocal "OUT".