Airsoft loadout: US Vietnam Special Forces Tigerstripe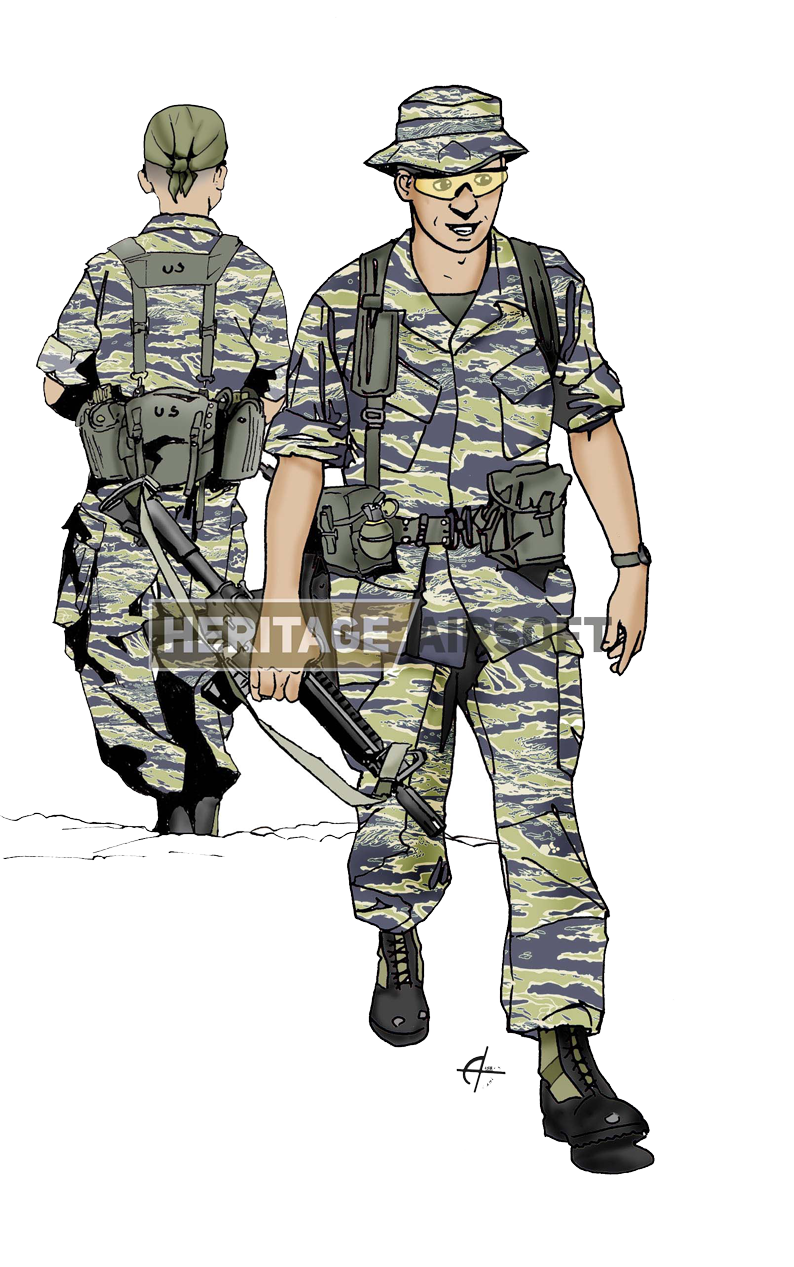 The Tigerstripe outfit, used unofficially by US Special Forces during the Vietnam War, gathers many specific elements to the first part of the war, added with evolutions appeared after 1968, this uniform being worn from 1969. Heritage-Airsoft proposes you many references for your tropical airsoft games.
Find below the kit-list to create your loadout !
Go to top.
Tigerstripe outfit has been developed to be better faded into the Viet Nam wet jungle. This camouflage is constituted with stripes of green, brown, on which we add black with lighter shades with green olive and khaki. It existed many evolutions and variants in subsequent years.
US Special Forces has unofficially used this outfit in 1969, this one being more efficient as the US VietNam "Grunt" outfit.
So to constitute this uniform, it will be necessary to acquire a jacket and pants with trellis BDU cut (Battle Dress Uniform) in Tigerstripe. The tropical hat (Boonie Hat) with the same camouflage will protect your head from the sun. If colors are slightly different with the rest of the outfit, it's because of the differences manufacturers, as it can be the case at this time.
We advise you a wash in machine for your outfit to create a light weathering which will reinforce the authentic look of the uniform.
US Jungle Boots Panama with a green olive web part will help to stand several days without having blistered feet, theses being very comfortable and cheap.
In function of the year you want to represent, you can choose between suspenders+belt and equipment M56 or M67 type.
Airsoft guns typical for the Viet Nam war will help you to triumph of your enemies, as the M14 or the M60 (for budding Rambo) or the famous M15 A1 (M16) (or the compact versoin XM 177 E2).
The Colt 1911 A1 CO2 special edition 100th anniversary will complete the set to be used as backup, especially of it's stored in the black holster in leather.
Rubber knifes KABAR or the M7 bayonet will be useful to realize your vocal "OUT" or your "Freeze", without forgetting their respective scabbards, will help you to avoid twisting their blades.