Airsoft loadout: The Hurt Locker Contractor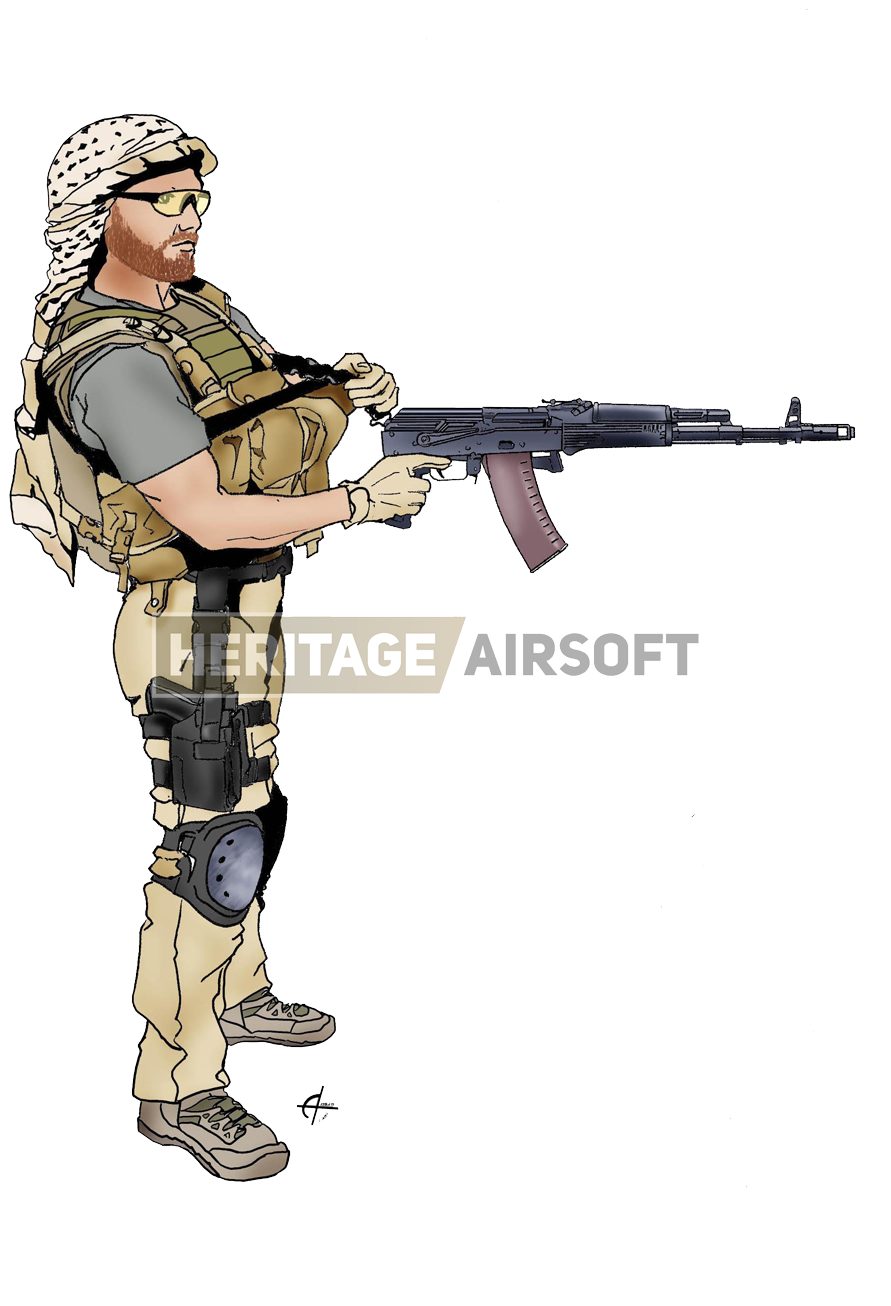 Made for adventurers of the desert, the Contractor outfit can be found in the film "The Hurt Locker" and remain accessible to the greatest number.
Find below the kit-list to create your loadout!
Go to top.
The "Hurt Locker" film will have marked the spirits for his realistic appearance and rather critical about the reality of conflicts on the battlefield. In this film, we can find many unconventional outfits, as composed of civilians and non-regulatory effects.
It's in this context that we find the required "Contractor", which represents an outfit worn by seasoned fighters who have adapted their equipment and weapons to the ground truth. Indeed, it will be easier for an American fighter to use enemy weapons (AK 47), consumables (magazines/ cartridges) being easier to find thanks to the enemy warriors.
To compose this outfit, a T-shirt will suffice as clothing for the upper body. We are in the desert, the harsh climate imposes to wear light effects. You can choose between the Foliage or Olive Green color T-Shirts, both proposed by the excellent brand MFH.
A trellis pants BDU cup Ripstop beige, made by Genuine Gear by Propper will complement this set.
About footwear, the choice is between the excellent shoes ZEPHYR GTX from Lowa, coyote color, or tactical low shoes proposed by Mil-Tec also coyote color.
Black kneepads, brand Condor or Mil-Tec, you will easily put a knee without damaging your pants and your knee. Although sold in pairs, some players prefer to wear only on one side.
We offer several references of gloves, from leather cavalry gloves (worn by WW2 paratroopers), tactical gloves with color coyote from Battle Cleared Replica or tan color from Mil-Tec.
A Shemagh sand and black or black and white will be essential to protect your head from the sun. It can also serve as a scarf to protect your face during sandstorms.
You can choose between a fake bulletproof vest coyote color with multiple Velcro to place your patches, and the tactical vest equipped with many pouches for AK magazines, also color coyote.
Concerning the main airsoft gun, we offer a AK-74 M - SLR105A1 from the renowned brand Classic Army, this one being provided with a full stock, or the version of the AK-74 with folding stock (AK103) from Jing Gong. Don't forget to get our straps 1 or 2 points for airsoft guns, with an elastic allowing you to suddenly release your gun to grab your Aumatic Pistol without damaging your AK.
The S17, a copy of the Glock 17, from Stark Arms (VFC) can to be placed in a thigh holster, with or without platform type MOLLE.
You're now ready to confront Taliban, to cover your comrades in their interventions in hostile field; everything is to be equipped optimally to ensure victory over the opponent.