Tenue Airsoft : Ziva NCIS
À la recherche d'un lieutenant de Marine disparu, l'agent spécial du NCIS, Ziva David, part avec son équipe en Afghanistan pour enquêter. Nous vous proposons la tenue adaptée à l'airsoft « ZIVA NCIS Contractor » vue à la télévision, épisode 9 de la saison 9. Cette tenue d'airsoft est efficace, facile à réaliser, polyvalente et unisexe.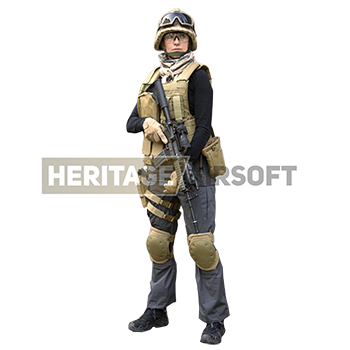 Voir la suite.
Find below the kit-list to create your loadout !
Remonter la page.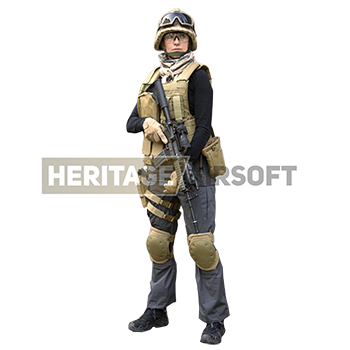 C'est un set contractor uni, aussi bien pour les airsofteurs que les airsofteuses, qui vous ouvrira les portes des camps civils ou des camps contractors de vos parties d'airsoft.
L'alliance du coyote/tan et du gris/noir est la base d'un set contractor. Ici c'est le pantalon SFU gris d'Helikon avec un T-shirt noir, une Ciras Land et un casque PASGT qui structurent la tenue de Ziva.
Le SFU est un pantalon tactique léger, résistant et extrêmement pratique avec ses 10 poches. Ziva ajoute à son SFU gris un holster de cuisse coyote pour son P226 et des genouillères Tan.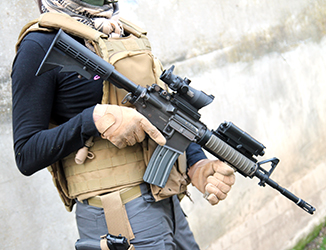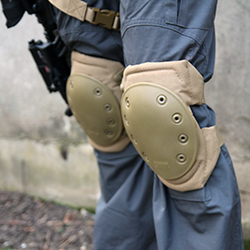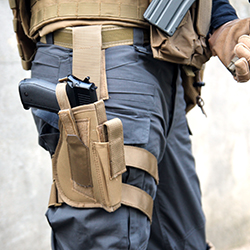 Le gilet tactique d'airsoft sera une CIRAS LAND, donc la version infanterie du porte-plaques protégeant le torse, devant et derrière. Doté du système Molle, l'airsofteur ou l'airsofteuse adaptera sur la ciras, pour l'airsoft, les poches de son choix, par exemple : poches porte-chargeur de M4, poches porte-chargeur de pistolet, outre dorsale avec poche d'hydratation ou camelback dans le dos, poche radio et poche EMT fourre-tout.
Ziva emprunte à ses collègues de la Navy, le casque PASGT couvert d'un couvre-casque digital désert, le tout surmonté d'un masque de protection. Nous vous proposons la version de FMA : le masque Regulator avec ventilateur pour les fortes chaleurs sans buée !
On retrouve le noir avec les chaussures ou bottes tactiques : les LOWA, qualité renommée et adoptées par des unités de forces spéciales ou les Mil-Tec d'un excellent rapport qualité prix.
Pour votre réplique d'airsoft, suivez la série en choisissant une M4 RIS. Il existe plusieurs modèles : le M4 RIS de Bolt avec son système de recul, le très récent M4 RIS de Nuprol avec son interne renforcé ou le SR4 RIS de SRC version sport line, la plus abordable financièrement. Ajoutez des accessoires afin de parer votre réplique : une ACOG, des modules AN / PEQ-15 factices tan pour y placer votre batterie. Vous pouvez aussi fixer une poignée sur le rail RIS. Ziva a installé aussi des caches-rail sur les côtés, à suivre donc…