Airsoft Loadout : PMC Metal Gear Solid 4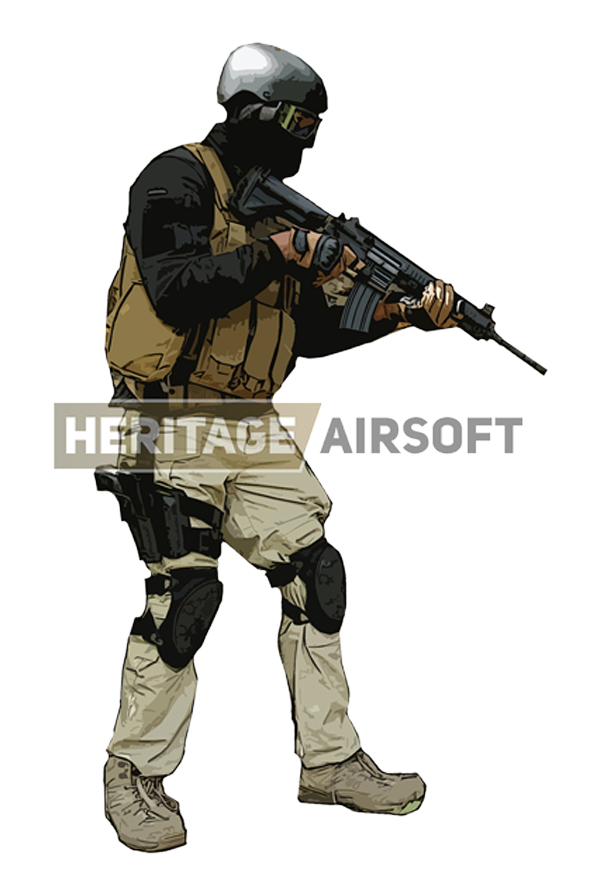 The video game Metal Gear Solid 4 (MGS4) set many PMC. Heritage-Airsoft offers you to acquire this airsoft outfit, easy to build and efficient to wear.
Find below the kit-list to create your loadout!
Go to top.
Kit-list :
PMC (Private Military Company) are mercenaries we frequently find in the game Metal Gear Solid 4: Guns of the Patriots, released on Playstation 3. They are equipped effectively, allowing them to gave an excellent movements mobility and react quickly to extreme situations.
The jacket that we offer is a Softshell: Artaxes level V from Pentagon brand (with excellent features: lightweight, waterproof, warm), this jacket will become a staple of your outfit as much for its comfort as its functionality.
If you want a cheaper clothing, we can also offer you a tactical T-shirt long sleeve black Ripstop type from Emerson.
A tactical beige trousers for Special Forces SFU will complete the set, its pockets offering additional opportunities to bring equipment (BB's, glasses, gloves, game accessories, etc.).
A splinter-proof jacket MAR Ciras style will offer you many opportunities payload, whether in magazines for your airsoft guns or grenades and important documents. We offer a different jacket CIRAS type with MOLLE attachments, coyote color. (See accessories to place on in the category pockets, magazines-pouches and empty-magazines pocket.)
The balaclava will help you be discreet during the night, topped by a helmet Special Forces (type I or II). Think Puma Artilux protection glasses, or sunglasses with UV400 or MSA racers.
LOWA ZEPHYR GTX shoes coyote color will mix quality and comfort, a real pleasure to wear, whatever the distance you traveled. The Patriot boots with zip desert are the cheaper alternative.
We will not neglect the hulls gloves, whether they are black or tan and black kneepads, classic or flexible AltaFLEX type.
The softair could be the HK 416 UMAREX brand, VFC manufacturing (licensed H & K); or M4 RIS Bolt brand, equipped with the new system Recoil Blowback.
An airsoft handgun (Automatic Pistol) like the Beretta M9 / M92 FS from KJW, to store in its rigid specific holster CQC to hang combat belt in nylon, coyote color, and on thigh, the pistol can serve as backup in case of problem.