Tenue Airsoft : Urban Predator
Stalk your adversaries and spring out of the shadows with the Urban Predator outfit! This MultiCam™ Black loadout is very appreciated for the players who likes CQB environments or play by night.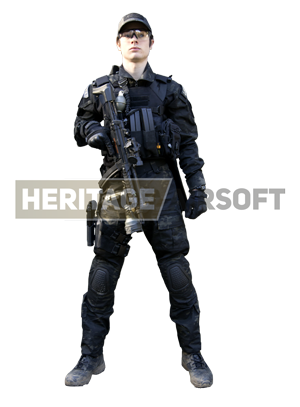 Find below the kit-list to create your loadout!
Up.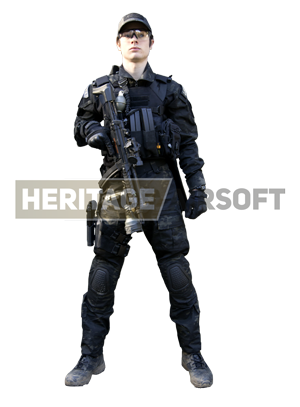 Kit list :
The pants are one of our most famous models: the G2 Predator by Invader Gear, here, the BTP Black (English version of the MultiCam™ Black produced by Crye Precision) is featured. These pants are designed for every combat scenario with its integrated kneepads and its numerous pockets. The spandex above your lower back and your knees follow your body shape naturally to run and climb with ease.
The top is a UBAC combat shirt with the G2 cut, still by Invader Gear with the same BTP Black as before. The torso part is made with cotton which sticks to your body same as the pants. This shirt is a second skin to help you move around freely, without being slow down by heavy vests such as ACU and BDU cut.
For your head, you can use the black FAST helmet by Emerson, it's light and can be customized. Or you can take the BTP Black cap by Kombat UK, it's all up to you and your budget.
You'll need some glasses to play, use the ESS Crossbow with clear lens to see clearly at night, and have top of line protection and style. The MSA Racers will do the trick as well, same protection, but cheaper than the ESS.
A Lowa Zephyr GTX black combat boots are an excellent choice to protect your feet and provide you with comfort for your long airsoft games, Lowa are a German brand which produces excellent shoes, being used by the Navy SEALS and the German GSG 9. For a cheaper option, you can use the black tactical boots by Miltec.
For your tactical gear, we'll start with a JPC plate carrier made by Viper, it's a customizable platform with MOLLE webbing, and it's very light and sturdy as well. You can make your pouches loadout by yourself, depending on the replica you're using. Or you can follow our carefully made selection, which includes elastic M4 magazines pouches (Blue Force Gear replica), a EVAC pouch by mil-tec and a double pistol pouch by mil-tec as well, everything in black.
Your holster is based on the SERPA platform made by BlackHawk! ™, which includes a magazine holder and a lamp holder, available for P226, M9, 1911 or Glock.
This outfit is made for urban combat scenarios, your camo choice can be anything that is black, including the A-TACS™ LE by Propper, the Kryptek™ Typhon by Emerson with the crye G3 cut. You can also take a classic, the urban digital made by Propper as well.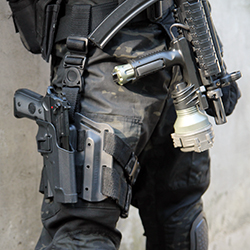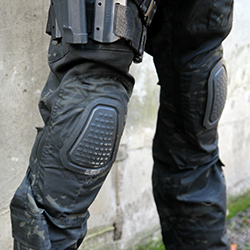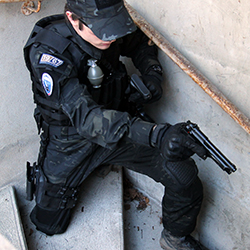 For your replica, a MP5 is all you need to perform well in urban fields. You can choose the classical MP5 A3 or SD6 by SRC or the model with the Surefire replica handguard by Classic Army. We do have attachments for your gun, such as sights and flashlights for CQB. Or, do like Ari and use a anti fog boat lamp to illuminate even the darkest basement!
This outfit is a mix between pratical and good looking, and will please the contractor/civilian players on dresscode games !