Airsoft loadout: SWAT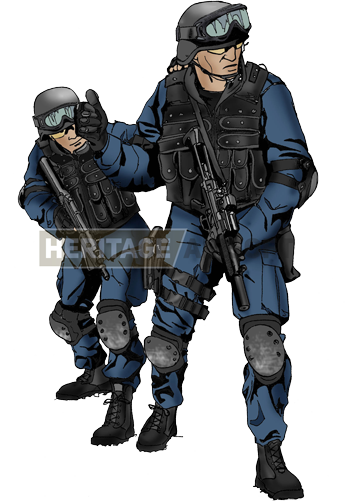 The SWAT outfit is accessible for anyone because it's basic. The most important is to choose quality elements to constitute your airsoft outfit. Heritage-Airsoft is here to furnish many cheap elements, for good quality, all being the most realistic as possible.
Find below the kit-list to create your loadout!
Go to top.
The US SWAT (Special Weapons And Tactics) can be compared with the French "GIPN" ("Groupe d'Invervention de la Police Nationale", Intervention Force of the National Police). Except each US police has its own SWAT unit, allowing a fast intervention in the states. The SWAT members are mainly police officers, called punctually to join their team, these being parked in their original unit. It exists SWAT units with their exclusive team: all the officers are only in this unit, and full time.
The SWAT outfit is constituted with a jacket and trousers with a BDU cut, navy blue, and from the brand Popper. These elements include many pockets to contain small equipment.
We'll add a helmet type PASGT M88 Spectra Black (you can also take a black Mich 2000, but it will be more expansive) on which we can add a tactical mask, as the X800 or X400.
For the equipment, we propose you many types of tactical vests, a rigid leg holster, kneepads and various types of tactical boots.
About the replicas, you can choose a MP5. We propose you many versions with retractable stock and/or silencer. Of course, it's not forbidden to use your usual Armalites, all will depend of the kind of battlefield on which the airsoft games will take place.
For the handgun, we can propose you the Beretta M9, or a gun from Glock family, from Stark Arms. The choice will be done in function of your taste!
This list being only a suggestion to compose your outfit, don't hesitate to browse our pages to discover other equipment that might interest you! So you can give us your increase suggestions to complete this page!