Airsoft loadout: Italian patrol - Vegetato - Beretta ARX configuration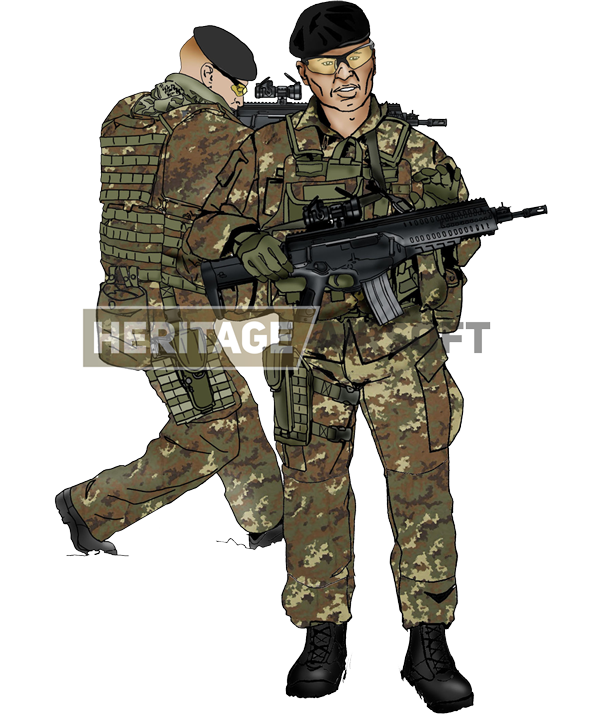 The Italian loadout is recognizable with his Vegetato camouflage, released in 2004.
Find below the kit-list to create your loadout !
Go to top.
The Italian army use, for 2004, the "Vegetata", last born, the first being the M1929 telo mimetico (1929 model camouflage pattern), used by the Italian troops during the WW2.
The outfit we offer you is the modernized version of the Vegetato camouflage, inspired from an other type of famous camouflage: Multicam. So this kind of camo, used by Special Forces in the Italian Army, can be nicknamed "Vegecam" or "Multiland". This version is used for 2012, and only the color change compared with the 2004 version.
Italian patrols are equipped with the same type of material as French Forces for the Vigipirate Plan: a set of trousers and field blouse, a tactical vest/CIRAS/Splinter-proof vest MAR type (MAR for MARine). We add all US equipment but in Vegetato version. For the head, you'll have the choice between the black beret or the Vegetato Boonie Hat. Your choice will depend of the type of field you'll have during your airsoft games!
Heritage-Airsoft offers you to be equipped with the ARX160, last assault rifle manufactured by Beretta. We have in two versions: Elite or Sportline (the distributor of this Softair is Umarex) and in two colors.
Beretta equipping the Italian army for more than 500 years, you won't escape to the famous Beretta M9/M92 FS as back-up/handgun, this one being already used in many armies in the world.
It seems this outfit is worn by patrols from Italian army, in position in Milan!