Airsoft loadout: Tears of the Sun - Bruce Willis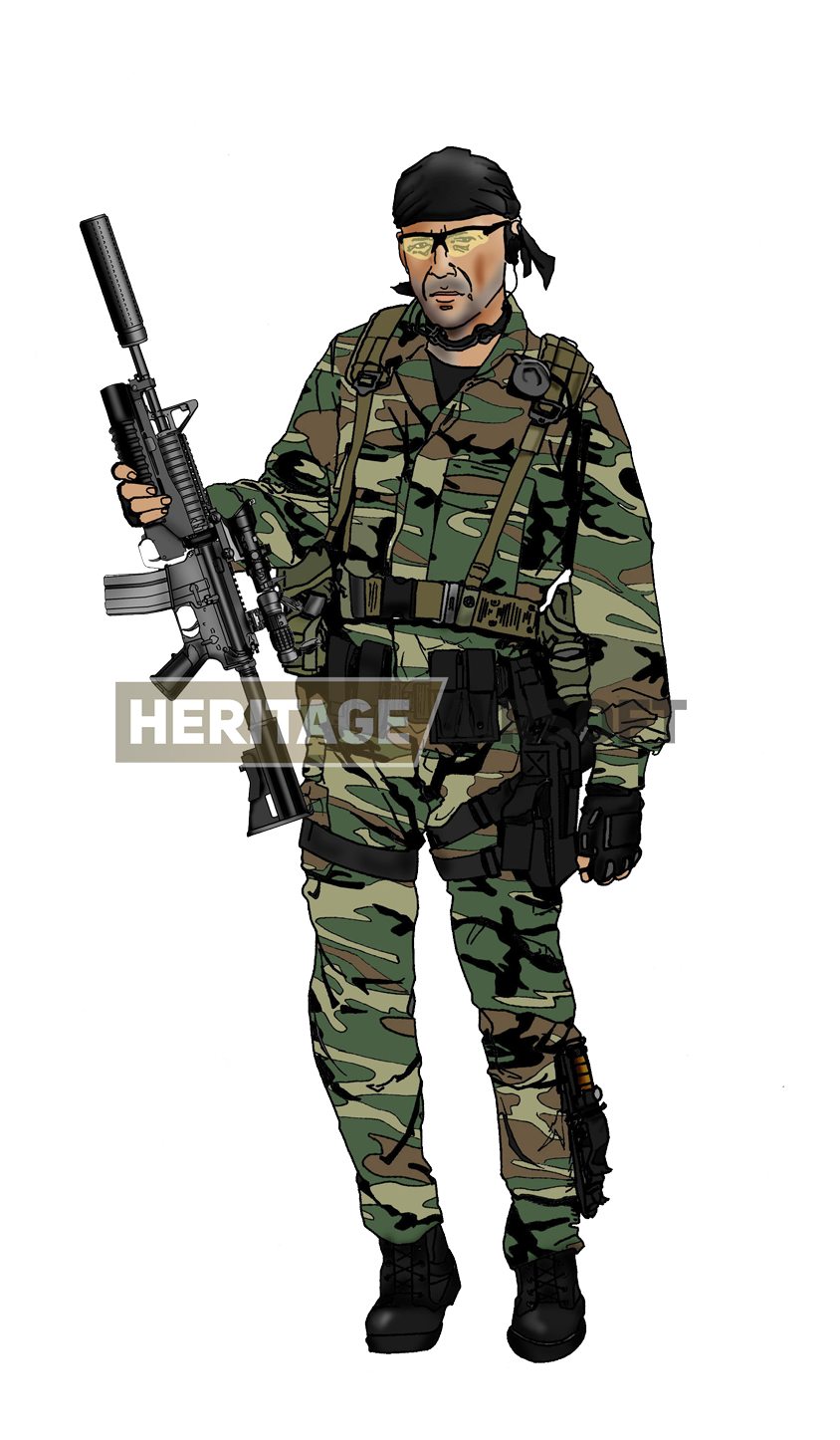 When Bruce Willis enter in war, he don't do it only half! Play, through the outfit proposed by Heritage-Airsoft, the Lieutenant Waters in a civil war without mercy.
Find below the kit-list to create your loadout!
Go to top.
In the film "Tears of the Sun", while the US Army evacuates its citizens in Nigeria last plunged into civil war, the doctor Lena Kendricks (played by Monica Bellucci), directing a humanitarian team, refuses to leave without the villagers.
The commando responsible for recovering her, led by Lt. Waters (played by Bruce Willis), will disobey orders to bring everyone and escape from the rebels.
The outfit worn by Bruce Willis consists of a jacket and a trellis pants BDU cut ripstop type in Woodland camouflage, manufactured by Genuine Gear by Propper.
The Nigerian sun being very violent, a black head-covering may be used. Protect also your hands thanks to the black leather hands mittens padded offered by Mil-Tec.
A combat belt and a webbing LC2 type, both made of olive color nylon (by Battle Cleared Replicas) will used to hang all your equipment, such as canteen with aluminum cup and olive cover, a magazine pouch for M4/M16 LC2 olive color, or a double magazine pouch for black pistol.
Stay in constant communication with your teammates through PMR 446 radios equipped with a throat microphone and behind the ear of the MAXON brand. A simple and cheap way to keep a formidable cohesion against disorganized enemies.
Concerning the airsoft gun, Heritage-Airsoft offers a M4 RIS Recoil Black Blowback from BOLT. You can customize it with many accessories, such as an M203 grenade launcher, a scope FTS type 3x magnifier for EOTech from Battle Cleared Replica, or a dummy silent proposed by SRC. You can also opt for an ACOG type sight, several models are available.
Your airsoft handgun will be a replica of the HK USP .45 from KWA to slip into a black thigh holster. Several references are available, whether the brand Condor, Mil-Tec or MFH, for right or left handed.
A rubber training knife KABAR may be slipped into a kangaroo nylon case (available from Rothco) and may be helpful for the HIT with the voice. This is one of the best ways to gain the respect of the opponent!