Airsoft Loadout : Marines MARPAT US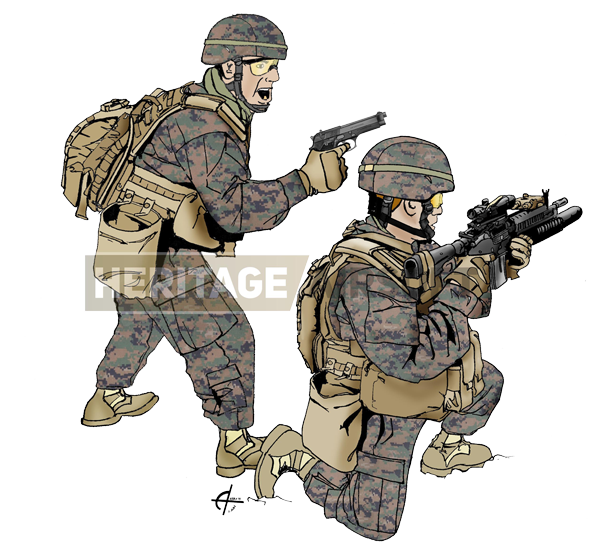 Slip into an American Marine's outfit by acquiring this camouflage uniform in Digital Woodland, or MARPAT proposed by Heritage-Airsoft. This outfit will give you a very low infrared signature thanks to its camouflage.
Find below the kit-list to create your loadout !
Go to top.
Do you want to acquire an outfit owned by American Marines to use it during your games airsoft? Heritage-Airsoft makes you available an outfit which has Digital Woodland Camouflage, also known MARPAT (for Marine Pattern). This camouflage, appeared in 2002 for the US Marines corps, and generalized in 2004 allows to get a reduced infrared signature, unlike the classic Woodland.
The jacket and pants can be of two different brands: Propper, the US military supplier (with ACU cut), or Battle Cleared Replica in MCCUU cut (Marine Corps Combat Utility Uniform). Beware though, the color on the pictures of this last set pants/jacket is not correct.
Display proudly a headgear with a MICH 2000 helmet in fiberglass or plastic, depending on your budget. Add a helmet covers for this helmet model, camouflaged in Digital Woodland type II from Battle Cleared Replica.
A splinter-proof MAR Ciras style jacket with multiple pockets provided (color Coyote) will allow you to transport your airsoft equipment, whether magazines for long replicas, pistol magazines or documents.
For long walks, feel free to test our Commando desert color boots made by Mac Allister. Their comfort will not make you suffer during kilometers and their realism is very surprising.
Tactical gloves from Battle Cleared Replica (tan or coyote color) will allow you to protect your hands from sandstorms, very common in our French regions!
For the airsoft gun, we recommend the new M4 RIS with the Recoil Blowback system from BOLT. Available in black or tan, you will have a sense of realism during the shooting, a spring being added in the stock to get more vibrations during your shooting with your airsoft replica!
Nothing prevents you to customize your gun, please send us photos of your best customs to share ue your talent!
Add a sight ACOQ type in 4x32 with red reticule from Battle Cleared Replica. The reference that we offer is a faithful reproduction of TA01NSN model used by the US army, included in the SOPMOD program.
Add a tactical black universal 3 points strap as a sling, so you can quickly get your pistol if needed.
The backup will be a Beretta type softair. In this sense, we propose the M9A1 (with a rail to add a lamp) from KJWorks.