Airsoft Outfit : US Airsoft Commando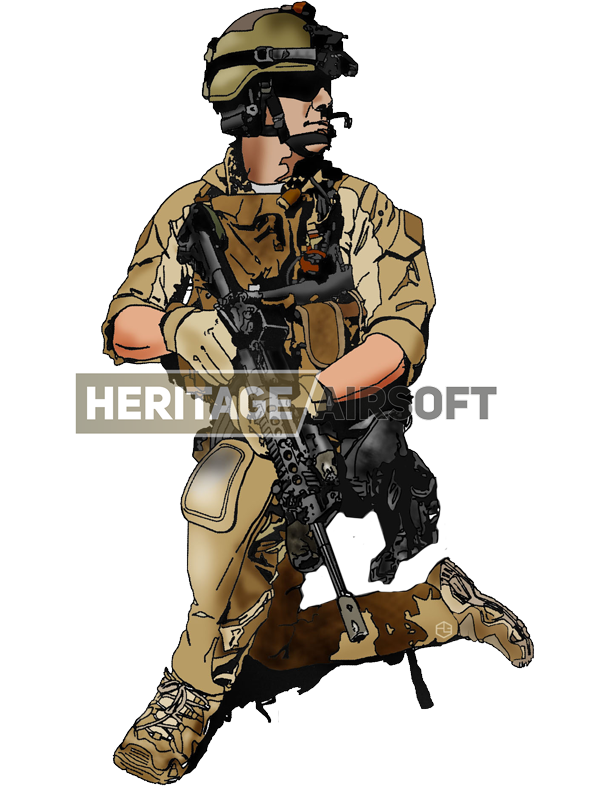 Be part of the elite with the US Airsoft Commando outfit! Based on the real outfit used by the STS (Special Tactics Squadrons), this outfit will please the most demanding players in terms of gear efficiency. 
Find below the kit-list to create your loadout !
Go to top
The pants are one of the most appreciated models of the Invader Gear products. The predator pants with the G2 cut with integrated kneepads, based on the famous crye cut, for the color, coyote would be best to suit the rest of the outfit. Those pants are comfortable, and thanks to the integrated kneepads, you will be able to be more stable, which is a huge advantage when you're about to fire.
For the shirt, same brand as the pants, Invader Gear delivers a high-quality combat shirt, which is better than standard BDU's when it comes to comfort and freedom of movement. The shirt has a thiner fabric layer on the torso, which results in better cooling in hot climates. For your head, a MICH-2000 Helmet will grant you an extra layer of protection against BBs, and to give you this operator look everyone is fond of, a Night Vision Support will be the perfect fit. For your protection glasses, you can use the excellent ESS Crosshair (with smoke glass or not) or the cheaper MSA Racers, both are suited for airsoft practice. For your boots, the Lowa Zephyr GTX coyote are an excellent choice, they're both comfy and durable and for a cheaper option, the Mac Allister desert tactical boots.
For a little more style, a desert shemagh is needed!
The combat choice is not there by random, for you vest, a 6094 plate carrier will be a good choice for your battle needs. Completely customizable, thanks to MOLLE system, you can choose your own pouches selection for your needs. Our selection is some M4 coyote pouch by Condor, a black dump pouch and some pistol mag pouch (single or triple, depending on your needs). And your upper torso, a admin pouch with its Velcro pad, useful for patches, and to put an additional magazine for you sidearm.
The ideal replica for this setup is the classic M4 RIS, for this, we got a couple of models: the CM16 by G&G, the M4 RIS by Bolt or the M4 SOPMOD Lone Star by King Arms. Of course, a large attachments selection is there to give a personal touch to your replica, for example: 552 Holo sights, fake AN/PEQ-15 laser sight or a Led Lenser flashlight, which can be fixed on your side rail with fixations rings. You can also use a 1-point sling for carrying your replica around.
The US commando outfit is a great outfit, stylish and practicable!