STARGATE SG-1 loadout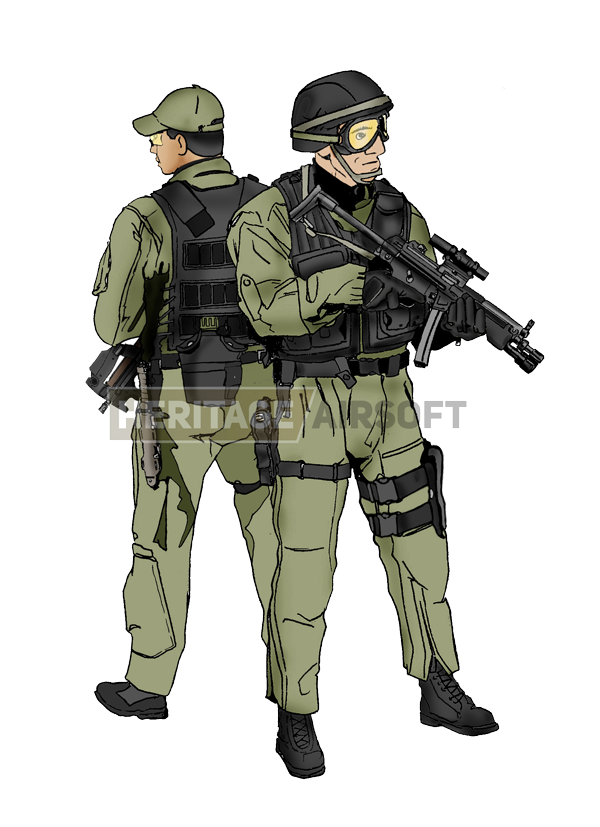 Dive into the world of Stargate SG-1 thanks to the outfit proposed by Heritage-Airsoft. You will be able to put you in the shoes of Jack O'Neill, either in series or in the Stargate film.
Find below the kit-list to create your loadout!
Go to top.
The Stargate is at your fingertips through the Stargate SG-1 outfit proposed by Heritage-Airsoft.
Join Jack O'Neill and his team by equipping yourself with the flying suit green olive, overcome with a Deluxe black tactical jacket, will allow you to carry all your airsoft material, like magazines for your main airsoft gun, pistol magazines, documents, BB's and your BB-loader. A belt will also permit you to hang your spare equipment as the canteen with its aluminum cup and black cover we propose you.
Many hats are available depending on your taste: choose a cap BDU type (Battle Dress Uniform) olive color; or prefer the black baseball cap. For fights requiring the wearing of a helmet, we recommend the black helmet PASGT style M88 Spectra, which could possibly receive a suitable helmet covers, to get a matte color (the nude helmet being satin).
Protect yourself from the dust with the US type mask M44 (WW2 fans will recognize it) and wear black commando boots, very comfortable to wear!
Concerning the airsoft gun, make your choose between the Stargate SG-1 version (serial) and the Stargate film version, respectively opting for MP5 A5 Classic Army, or the P90 FN Herstal from Cybergun, which has officially licensed markings.
Equip yourself with an automatic pistol that has been proven: the Beretta SR92, perfect replica of the Beretta 92/M9 from SRC will allow you to have a quality backup. Store it in a black thigh holster. Left-handers also find the equivalent for the left hand (or to make Akimbos!).
Don't forget the embroidered patch with velcro "Stargate" type, personalized by Heritage-Airsoft!