Tenue Airsoft : BF4 Pac Style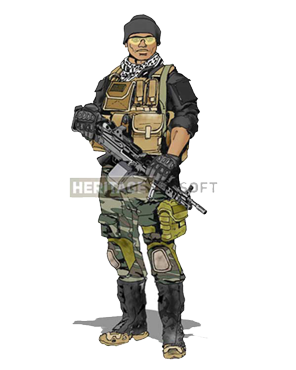 Fan of the battlefield 4 game? We got the ideal outfit for you! We took great care to reproduce Pac's uniform, which is both good looking and practical!
Find below the kit-list to create your loadout!
Go to top
Suited for airsoft games in natural environment with tactical woodland pants and a black combat shirt, this set is simple, but efficient! The Gen 2 Crye cut made by Invader Gear has kneepads integrated to it, same with the combat shirt with reinforced elbows! For low budgets options, you can use a Battle Cleared Replica woodland with the ACU cut. For our head, a black beanie or a Woodland baseball cap should complete your outfit nicely. For the glasses, you can use ESS ballistic googles, which will protect you from the sun and BBs! And just for the sake of your look, a black and white shemagh!
For your tactical vest, a CIRAS plate-carrier is an excellent choice that can be easily reconfigured to suit your needs, thanks the variety of MOLLE pouches. For your empty mags, we got the leg Dump pouch, which will get you faster into the heat of the battle!
To keep fidelity to the original material, your airsoft replica can be a M4 RIS or a SR-25, for your handgun, the Beretta 92FS is an excellent choice. Some attachments are available to give a personal touch to your replica configuration !