Airsoft Loadout: Battleship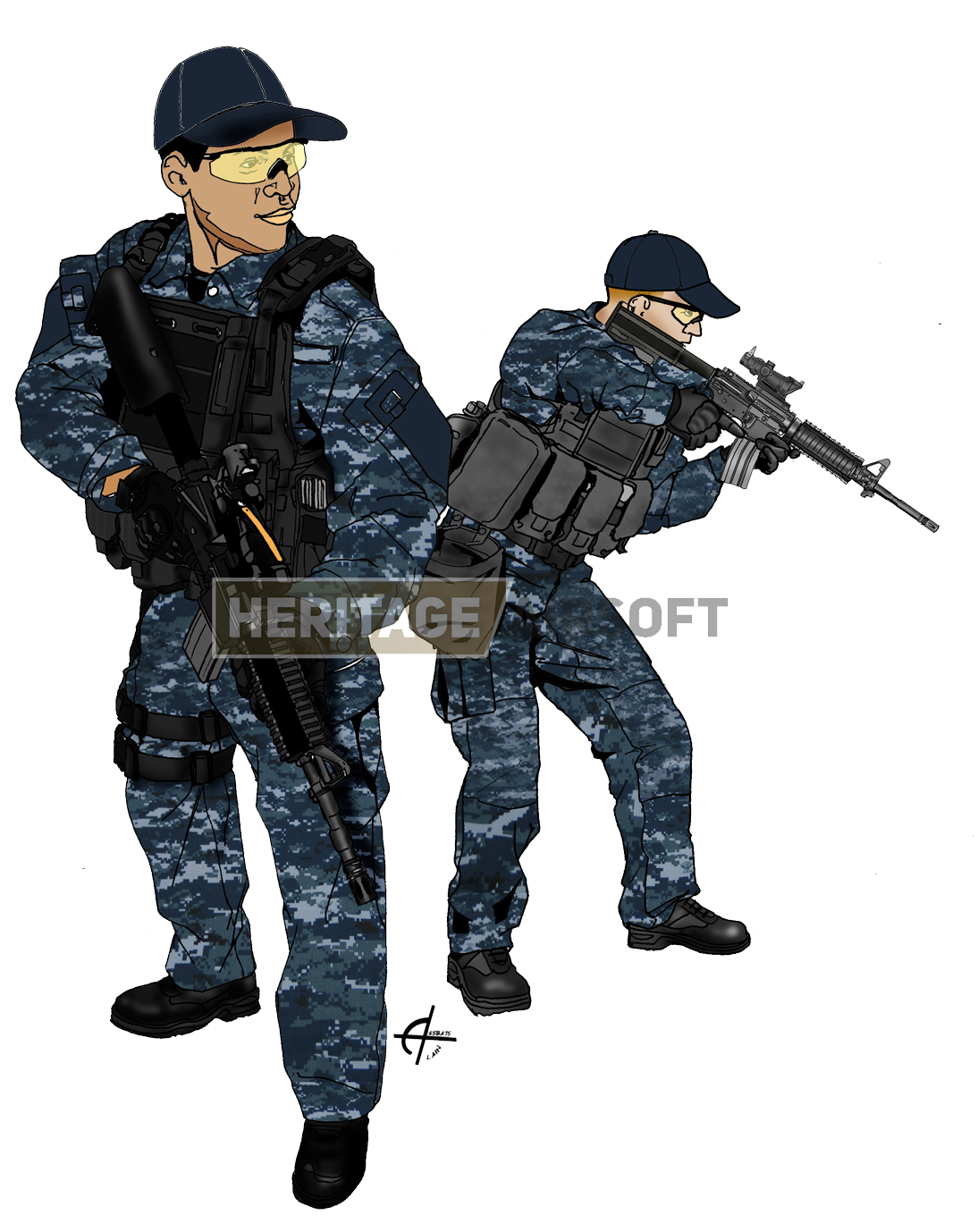 "Battleship" set a naval battle with Hollywood style: to survive, you'll need to be equipped with the best equipment. In this sense, Heritage-Airsoft will provide you the necessary references for your airsoft games.
Find below the kit-list to create your loadout!
Go to top.
The movie "Battleship" features such a huge naval battle that Hollywood does best. In this battle, the young officer Hopper (Taylor Kitsch), Admiral Shane (Liam Neeson) and the NCO Raikes (Rihanna), engaged aboard the USS John Paul Jones, will discover that we are not alone in the universe, and they will have to save the world by fighting in the Pacific Ocean.
To equip you as the staff of the Navy, you need to acquire the jacket and pants ACU cut camouflaged in Digital Navy. Under these, proposed by Battle Cleared Replica, it will be possible to wear a shirt of the brand Mil-Tec. You choose if you prefer short sleeves or long sleeves.
An airsoft Baseball cap navy blue (with Velcro to add a patch or logo) will be a little plus "so american" for the outfit, as it is unnecessary to wear a helmet on a warship!
A MOLLE Ranger vest with pockets and black dorsal addition of MFH brand will allow you to store your airsoft magazines for your replica, and Velcro on the front allows you to customize this airsoft tactical vest. This vest is to complete with a black tactical belt 600D from Viper.
Protect your hands with the pair of black shelled gloves we offer. Manufactured by Battle Cleared Replica, they won't prevent you to handle with dexterity your airsoft gun.
Choose your pair of tactical boots, whether commando (laces) or Patriot (laces with side zip), both models are from Mac Allister, known for its comfort and durability.
Equip yourself with an M4, we propose you many brands like G&G (TR16 R4 RIS Commando Top Tech) or Classic Army (Armalite L4 RIS Sport line), provided with an ACOG 4x32 scope, Red reticle with support from Battle Cleared Replica brand. Equip you with a black tactical universal strap 3 points to easily carry your softair.
Your backup can be a derivative in airsoft version GBB (Gas Blow Back) of the Beretta M9/92FS. And discover the versions proposed by KJW and SRC, both A1 version, provided with a rail on the front to fix a lamp. This airsoft gun will be stored in a rigid holster designed specifically for the M9. We offer several references and their support.
The secret of success lies in the quality of your equipment, enough to effectively play on an aircraft carrier (if you are lucky enough to have this kind of terrain!), but it will be perfect for the CQB (Close Quarter Battle) and also for night operations.